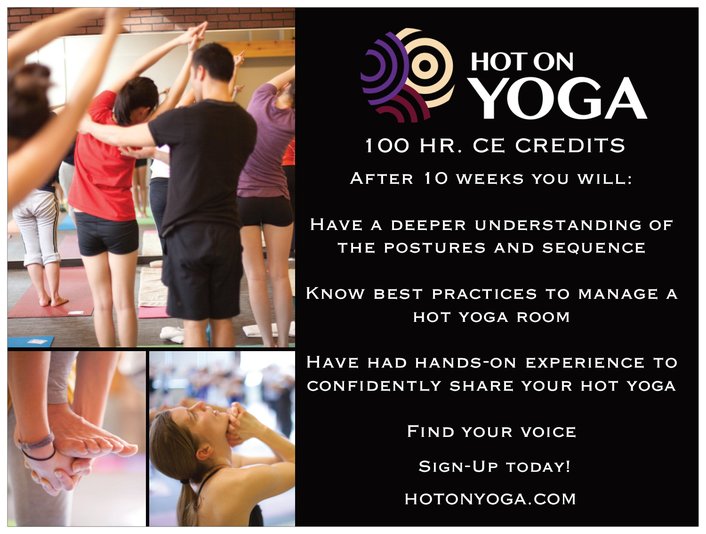 Program Overview:
Our Yoga Alliance accredited, 100hr CE is presented over the course of 3 months and raises the bar over any Hot Yoga training. You will be taught and supported by a team of Bikram and HOY trained instructors that have a collective experience of over 75 years. Students will evolve into the role of teacher through dedicated self-study, group work, community teaching, and supportive mentorship. This program will not only empower you on how to teach Hot Yoga, it will allow you to break through personal, physical and emotional barriers so you are living the fullest, happiest life possible.
Program leads, Michael and Brooke Gumucio, are both certified Bikram Instructors along with a support staff of Bikram and HOY Instructors will guide participants into a deeper understanding of yoga. They will put you first as they facilitate and support you on this exciting journey. It is their goal to ensure you will complete our program confident in your own abilities.
Program Curriculum:
Asana: Proper Alignment, Benefits, Contraindications, Pregnancy, Sanskrit Names
Sequence Structure: Understanding intelligence of the sequence, Modifications
Teaching Methodology
Assisting: Verbal cues and Modifications
Effective Communication: Voice of the Teacher
In-Tandem Teaching
Studio & Room Management
Yoga Ethics & Bikram Philosophy
What you will gain from this program:
Become comfortable with public speaking
Learn how to find your own unique voice as an instructor
Possess skills for teaching
Know the benefits of the postures
Understand the body's physiology
Appreciate the importance of being in service to students
Teach enthusiastic and knowledge-based classes
Understand how to market yourself as an instructor
Included with your investment:
Hot on Yoga Teacher Dialogue Manual
3- Months of Unlimited yoga classes through the duration of the program
One-on-one mentorship with Program Leads
"Who you are tomorrow
begins with what you do today."  -Tim Fargo
Payment Plan:
$1299.00 Paid in Full before start of Program. June 1st
Payment Plans $500 before June 1st.
$500 before July 1st.
$500 before Aug. 1st
Certificates will be issued when course is completed and paid in full
 No Refunds and non-transferable